UB UX Design Programs
Problem
The interaction design programs at the University of Baltimore were in a downward spiral. Poor leadership and resourcing led to a decrease in enrollment over several years. From 2011 to 2014, the enrollment dropped significantly. Traditionally, the program did not advertise, so, word of mouth was the only way people knew about it. The University leadership informed me that they wanted to stop offering the programs.
Students had shared with me that they felt as though the programs had no sense of community, no clarity, and little responsiveness to their needs.
The programs included a masters of science degree (MS), three post-baccalaureate certificates, and a doctor of science (DSc). One of the certificates focused on library technologies while the other two had different names but had little differentiation between them. The MS and DSc also had little differentiation between them. A number of outside competitors like General Assembly began to appear in this space. To make matters worse, the University had a master of arts (MA) program in publication design that appeared to be duplicating our course offerings due to a longstanding feud between senior faculty. I joined the University in Fall 2012 and in Fall of 2014, administration assigned me to be the program director of all five programs.
Design Solution
Like any complicated problem, this one took several years to correct but the biggest changes occured with the first 90 days.
The first action I took was to look at the programs in detail. I did a content analysis and reviewed the original missions of each program. The first action was to break them up and delegate the responsibilities to other faculty. The library certificate was specific for librarians who needed to keep their certification current, so, I asked our library faculty to manage that program. In order to break apart the MS from the DSc program, I asked a senior faculty member to take that.
Once I had the portfolio of the MS and certificates, I used a SWOT analysis to determine where to put our resources. We had a number of strengths and opportunities for success including positive reputation (by those that knew us), the ability to offer all of our classes online, and increased interest in this field. Our weaknesses included low student enrollment, sporadic course offerings, low morale, and program isolation. The threats to these programs included non-credit/for-profit groups, local Universities who launched programs during our decline, and the decreased interest in graduate school.
To address the indistinguishability of our two certificates and to leverage our strengths and opportunities, I re-worked the information design certificate to be comprised of the four required core courses in the MS. At the same time, I worked with University administration to rename it within the University System of Maryland to "User Experience (UX) Design". This entailed multiple state-level documents and reviews. By making it the four-core courses, student enrollment in those courses would increase and become more predictable over time. I was able to work with the faculty to devise a thoughtful schedule to classes to support online learners in multiple programs and brand the courses as UBUX.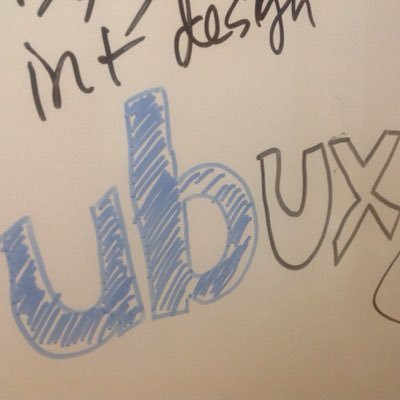 Around the same time, another faculty member and I, tired of the longstanding disagreements between University divisions, offered a graduate level learning community comprised of students from my programs and students from the Publication Design and MFA programs. This learning community was made up of two courses, one a program requirement and one a program elective, that integrated together and worked with a local non-profit healthcare provider. This eventually led to an analysis of courses and ellimination of course duplication. I developed a concept called Design @ UB to integrate all of the disparate programs into one place for potential students who know they want a career in design but are not sure which direction they want to go.
In order to address morale issues with students in our program, I worked with advanced students to create a student organization that focused on knowledge, networking, and service. The student group works with outside organizations to host happy hours, design jams, and ad hoc learning presentations.
I developed worksheets for the program so students could plan out their academic career and had a visual guide to what was needed. I also began sending regular communications with students about scheduling, available jobs, and interesting articles.
Over the last four years, the program's enrollment has almost doubled due to my grassroots marketing on Twitter, Medium, and LinkedIn and I oversaw more than 100 students. We've become the de facto UX school for Maryland and are now an optional part of a MS in Health Innovation at the University of Maryland, Baltimore which is Maryland's medical school. We've been listed in several "Best" lists beating schools like Penn State and University of Colorado, Boulder and our students are highly sought after going to places like Google, Ebay, and Paypal.
Reflection
This opportunity has taught me so much about management and administration. I have become familar with University financials and financial processes. I've also learned much about delegation and managing large groups of individuals (100+). It was very awesome to apply design thinking and systems thinking to non-technical problems and know that I've gotten much more experience in those important skills.
Role
leader, director
Methods Used
interviews, content analysis, SWOT, design fiction, systems thinking
Technologies Used
Twitter, medium.com, LinkedIn
Additional Materials